Loading map...
Be Sound Hostel Barcelona
Category: Hostel
Address: C/ Nou de la Rambla 91 - Barcelona, Spain
Starting from: 18.26 EUR
(indicative price per person, per night)
About the property
The 'Be Sound Hostel Barcelona' is located in the center of Barcelona, inside a 6 floor's building completely new, with a beautiful rooftop and an amazing view to the city.
The hostel was decorated by the local artists so they gave to the hostel an unique and strong personality.
Accommodation
All the rooms of the Be Sound Barcelona are mixed dormitory, from 6 to 8 beds, each with a balcony and a bathroom on every floor. All the rooms have security lockers, air conditioning and heating system.
Common areas, services and activities
In the common areas and in the kitchen, you will have the possibility to know other travellers, talk with them and discover their stories. Otherwise you can always go on top of the roof to see the beautiful Barcelona city.
We offer:
-Free Wi-Fi connection
- Tourist Activities and recreatives, as the 'tapa's night' and the 'flamenco's night' or beach parties.
- Reception 24h
- You can rent towel and sheets for 3.5 euros
- towels for 2.5 euros
Surroundings
The Be Sound Hostel is located in the center of Barcelna, from here you can mix different cultures and styles. The hostel is very close to the Concert's room Apolo.
Why you should stay here
The Be Sound Hostel is located in the center of Barcelna, from here you can mix different cultures and styles. The hostel is very close to the Concert's room Apolo.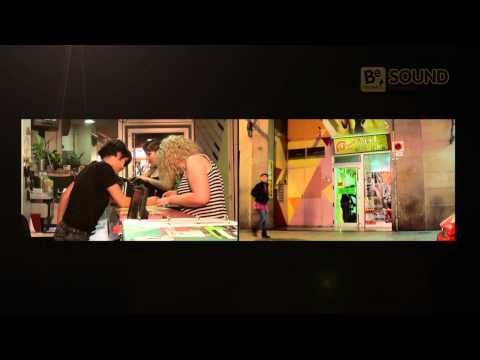 Check In
from 9:00 to 24:00
Included Facilities and Services
| | |
| --- | --- |
| Air conditioning | YES |
| Security boxes / Lockers | YES |
| Heating | YES |
| Breakfast | NO |
| Wi-Fi access | NO |
| Linen | NO |
| Towels | NO |
Specials
This property accepts reservations for groups. Use the form on top of this page to check availability.
Be Sound Hostel Barcelona joins HostelsClub.com Erasmus special program for Erasmus students.

Are you an Erasmus student? If yes, you will be granted: (not valid for group reservations)
- Complementary drink and free ''tapas'' at the check-in, Free Breakfast, Free WiFi, Free Walking Tour.

To receive these discounts, show the printed booking confirmation along with a valid international student card (ESN card, Student ID, Letter of Confirmation or other) upon your arrival.
Travelling in a group? Click on the link below to get the list of hostels that accept reservations for 10 or more guests. Use the search form to check availability and book online. If you like, feel free to contact us at groups@hostelsclub.com, we will help you find the best offer for your group.
Membership Card Deals
Discover all benefits of the HostelsClub.com Membership Card: immediate discounts of up to 30% on thousands of hostels, B&Bs and cheap hotels all over the world as well as a wide range of special offers in many bars, restaurants, discos etc...
top destinations
Amsterdam hostels - Barcelona hostels - Berlin hostels - Brussels hostels - Cape Town hostels - Dublin hostels - Florence hostels - Frankfurt hostels - Havana hostels - Helsinki hostels - Lisbon hostels - London hostels - Madrid hostels - Milan hostels - Naples hostels - Paris hostels - Prague hostels - Rome hostels - Shiraz hostels - St Julian's - Malta hostels - Tehran hostels - Trinidad hostels - Valencia hostels - Venice hostels - Viñales hostels
Don't miss our offers!
Register your email to receive our monthly newsletter with discounts, special offers and competitions!